News
Ploughing News 2021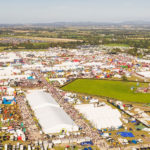 Ireland to host National & World Ploughing in 2021.
-
National & World Ploughing Championships 2021. Ratheniska, Co. Laois. Probably the largest National Ploughing Association in the world the NPA turns ninety in 2021 and to celebrate will host the National & World Ploughing Championships from 15th to 18th September in Ratheniska, Co. Laois, Ireland. Attracting an annual attendance of almost 300,000 this spectacular annual "Farming Festival" has it all! On entering the golden fields of stubble prepare to be awed by the precision and skill of the ploughman as… .... Read More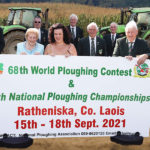 90th National Ploughing Championships Announced
-
Ratheniska, Co. Laois. 15th - 18th September 2021. The National Ploughing Association were delighted to recently announce details for its 2021 event, which takes place in Ratheniska, Co. Laois, from September 15th-18th. 2021 will see the National Ploughing Championships in its 90th year, and is also the 67th World Ploughing Contest. .... Read More
Ploughing News 2020
Below are some of the Facts & Figures from the event:
*These figures refer to an economic report carried out in 2011. In 2019 over 100,000 more visitors attended the event.

Visitors to the Championships spent just under €36.5 million during the three days of the event. This spending resulted in a tax take of over €6.6 million for the National Exchequer
80% of attendees at the event were not local
Gender profile is 37% female, 63% male
Machinery is the main attraction in the Trade Exhibition
Personal shopping accounted for over €7 million
Trade purchases were in excess of €9.6 million
Food expenditure accounted for €9.5 million
The breakdown of the socio-economic groupings attending are as follows:
ABC1: 31%
C2DE: 34%
Farmer: 35%
The breakdown frequency of attendance at the Championships is as follows:
Annually: 58%
First time: 18%
Every few years: 13%
Every second year: 8%
Other: 3%
Age Profile:
16-19 yrs: 6%
20-30 yrs: 21%
31-40 yrs: 22%
41-50 yrs: 24%
51-60 yrs: 17%
60+ yrs: 10%
---
The National Ploughing Association would like to thank our event sponsors.
ASSOCIATE SPONSORS
ROAD SIGNAGE/FUEL
INNOVATION ARENA
IRISH PLOUGHING TEAM
FASHION
LIVE TV STREAMING PARTNER
PLOUGHING APP / PLOUGHING MAP GUIDE
PRODUCT PARTNERS:
COCA COLA– Soft drinks Franchise
DAVID CLEGG –Signage
SOUTH COAST SALES (Cork) PHILMAC – Information Points
KINGSPAN ENVIROMENTAL – Fuel Storage
GD GENDIST GROUP– Fire & Safety Equipment