With just over two weeks to go to the staging of one of Europe's largest outdoor events, preparations at the site in Screggan, Tullamore are well under way for this year's National Ploughing Championships. Today, the national media were treated to an exciting preview of what to expect, as the event was officially launched on the Co. Offaly site.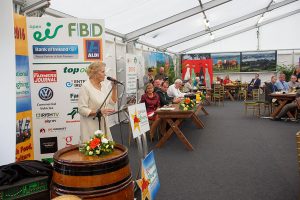 At this morning's launch, the media and special guests were entertained by local performers from Offaly while prize-winning animals, quality machines, horses and hounds were all on display. Models from the Holman Lee modelling agency took to a mini catwalk to provide a glimpse of the highly anticipated fashion shows that will take place throughout the three days of the event.   Local and national boutiques/fashion houses provided a taster of the latest styles and the fashion of the forthcoming season.
Launching the event, NPA Managing Director Anna May McHugh said "The Championships not only provides a national stage for showcasing all things agricultural, but also brings together people from all sectors of Irish society both rural and urban, to enjoy three days immersed in country living,"
"It is great to see the phenomenal interest in the Ploughing Championships with countries such as Australia, France, UK, Netherlands, New Zealand, Czech Republic, Germany, Canada and Belgium exhibiting. With 281,000 visitors attending last year and over 1,500 stands the Ploughing Championships is one of the market leading Agriculture Trade Fairs worldwide."
Improving visitor experience is always a priority for the National Ploughing and this year is no exception with NPA piloting a park n ride system for Dublin traffic. The service will be complimentary and operate frequently each way throughout the 3 days giving visitors the added benefit of a drop off point within a few hundred metres of exhibition arena.
Visitors to this year's National Ploughing Championships will also have the opportunity to get train transport from around Ireland to travel to Tullamore, where Bus Éireann will operate a shuttle service for the short (5 km) trip to the Screggan site over the days from Tuesday 20th to Thursday 22nd of September.*
There will be an array of new exhibitors as well as hundreds of outstanding veteran companies showcasing their products and services in dynamic ways.   The very latest models in agricultural machinery will be on display, quality livestock, a Forestry Village, Food Fayre, an International Business Centre in the Innovation Arena and an extended Local Enterprise Village with over 80 exhibitors aswell as National Baking Competitions, Garden Displays, Craft Shows and many topical seminars.
An extended Trade Arena will see the return of the popular Tented Retail Village with demand necessitating the return of the "Dome" the biggest Arcade ever, with over 120 exhibitors displaying in the one arena plus hundreds more located in specialist Pavilions.
Exciting new initiatives this year will include the Machine of the Year competition, charity calves auction and Ireland's first ever tractor football matches. The Volkswagen Amorak V6 Experience an exhilarating 4 x 4 off-road driving experience is not for the faint hearted. The National Ploughing Championships taking place from September 20th to 22nd in Screggan, Tullamore, Co Offaly is not to be missed.