Speeds of up to 1,000Mbs Available to all Exhibitors
As the first of over 30 kilometres of trakway for the 86th National Ploughing Championships is currently being laid to transform a green field in Screggan, Co. Offaly into the bustling hub that will become #Ploughing17. This year there will be an additional 5 kilometres of track to greatly enhance visitor experience. The NPA are also delighted to re-connect again with open eir as the communications sponsor for this year's Ploughing.
As Europe's largest outdoor event this is a major technical undertaking, last year's event was attended by 283,000 visitors and this year there will be over 1,700 exhibitors. The National Ploughing Championships will take place this year from Tuesday 19th of September to Thursday 21st of September.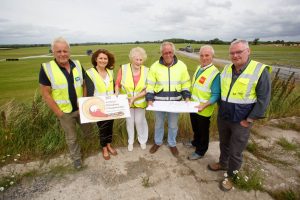 Anna May McHugh, NPA Managing Director said "Staying connected and in touch has never been more important than in this modern age, which is why we are thrilled to renew our communications partnership with open eir. Improving visitor experience is always a priority for the National Ploughing Championships and this year is no exception with open eir providing free charging units for mobile devices and wifi hotspots located throughout the site for attendees to use."
Carolann Lennon, Managing Director at open eir said "We are delighted to once again be the Official Communications Partner at the 2017 National Ploughing Championships. The event is the highlight in the calendar for thousands of people across the country and we are very much looking forward to being a part of that. open eir has strong links with communities across rural Ireland and we continue to invest significantly in communications and broadband networks right across the country. Reliable high speed broadband is crucial to the sustainability of rural Ireland and that's why our teams are working hard to deliver world class broadband speeds. We understand the critical importance of broadband – for education, for families, for farming and non-farming businesses – and the benefits it brings in terms of employment and quality of life. No other operator is investing more than open eir in broadband rollout.
We hope our sponsorship will also help improve the quality of experience for visitors through our investment in technology at the Championships including our wifi hotspots on site. Do make sure to visit our stand– we'll have a team of people there providing up to date detailed information on broadband rollout for every town and county and we would be delighted to answer any questions visitors have".
An extended Trade Arena will see the return of the popular Tented Retail Village with demand necessitating the return of the "Dome" the biggest Arcade ever, with over 120 exhibitors displaying in the one arena plus hundreds more located in specialist Pavilions.
In the ploughing stakes a particularly strong programme has attracted entries from all around the country and Northern Ireland bringing the number preparing to plough in Offaly to 368 over the 3 days. There has been a substantial increase in this year's Novice class bringing the total to over 20 entrants, which signals great interest in the next generation of ploughers.
All of the firm favourite traditional attractions are set to return this year such as Fashion, Meggers, Sheep Shearing, Hunt Chase, Pony Games, Live Music and Dancing, Vintage Ploughing, Threshing, Sheep Dog Trials, Loy Digging, with celebrities and well known faces everywhere Ploughing 2017 is not to be missed.